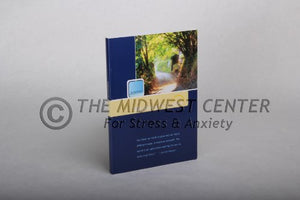 Guidebook - Digital Download Only
Regular price $65.00 $65.00 Sale
A 200+ page Guidebook, Broken out into sessions that correspond with the audio lessons.  This is a workbook to use with the program.  
Your weekly progress continues with your personalized, interactive guidebook. Detailed self-evaluations, core skill building exercises and topical information are included to personalize your care.
This is the official and original guidebook to the Attacking Anxiety and Depression program from the Midwest Center for Stress and Anxiety. 
This workbook is now sold individually, either for replacement or for those interested in sampling the program. However be advised that the workbook, while valuable on its own, is designed to follow the audio program which is not included in this sale but can also be purchased in individual pieces or as a set. This workbook is included with the full purchase of the Attacking Anxiety and Depression program from the Midwest Center. 
This book provides step-by-step guidance for positive change, from the perspective of people who have been where you are now. The workbook is an invaluable tool for your journey to recovery. It helps you personalize the program for your specialized needs through educational tools and techniques, exercises for personal introspection, valuable self-evaluations, and goal-setting exercises. 
The program will help you focus on changing unhealthy or unwanted behaviors that reinforce our negative thinking patterns. 
The message of anxiety and depression may be that you're weak, unworthy, and incapable. The Attacking Anxiety and Depression program will open your eyes to your true potential, helping you to grow into the strong, confident, and resilient person you have the potential to become. 
Join the community of past sufferers and take your life back.